5 Daily Self-Care Rituals To Adopt During Quarantine
DISCLAIMER
This blog has not been approved by your local health department and is not intended to provide diagnosis, treatment, or medical advice. Read More

This blog has not been approved by your local health department and is not intended to provide diagnosis, treatment, or medical advice. The content provided on this blog is for informational purposes only. Please consult with a physician or other healthcare professional regarding any medical or health-related diagnosis or treatment options. Information on this blog should not be considered as a substitute for advice from a healthcare professional. The claims made about specific products throughout this blog are not approved to diagnose, treat, cure, or prevent disease.
In this article: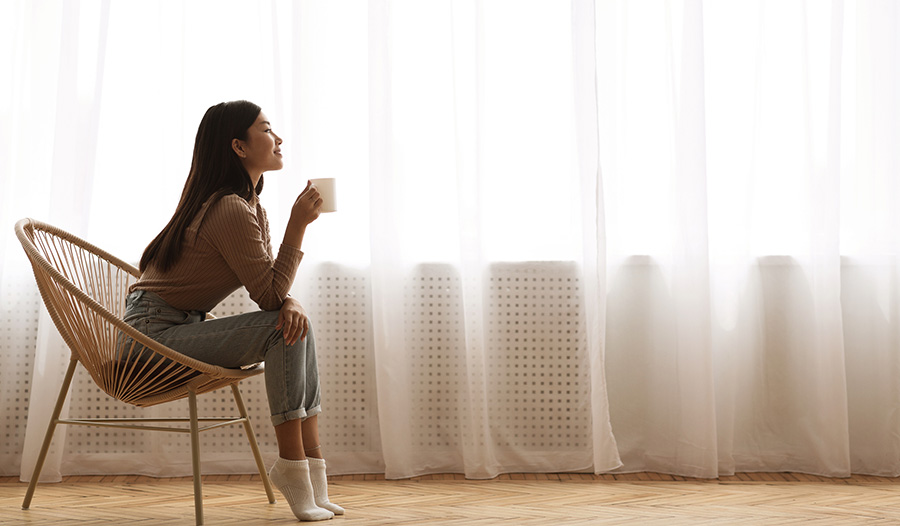 What Is Self-Care?
In order to practice self-care, you must treat yourself gently and with compassion, especially when you're quarantining at home during a global pandemic. Taking a time out to re-center and reconnect with yourself is not selfish, and is, in fact, a necessity.
You might be familiar with this already, as over the years we have called it various things, such as "me time," "R & R (for rest and relaxation)" or "decompression." Self-care is the same concept, but has become a buzzy word over the last few years.
So, you can turn your self-care into something as extravagant or as simple as you want. Some people build a meditation room in their home to retreat to in order to get some time away from life's stresses and recharge their batteries, while others simply go to bed at a decent time to get 8 hours of sleep per night. If it makes you feel better, then you're doing it right.
What Are Self-Care Rituals?
To help make good habits centered around self-care, you must discover small actions or behaviors that you can do over and over again, that help you be well physically, mentally and emotionally. These are called rituals.
Your rituals are personal to you. Perhaps you light a candle and meditate for a few minutes before you go to bed every night, or you turn your entire #SelfCareSunday into a self-care marathon complete with a long soak in the bath, face masks and hair masks, nail painting and some journaling with a hot cup of tea in your coziest pajamas. If an action makes you feel good, then turn it into one of your rituals.
By making rituals a regular part of your life, you can reduce stress, create a sense of calm, feel happier and be able to ride out the storm when things get difficult.
Here are five self-care rituals you can do daily.
Self-Care Ritual To Feel Happier: Express Your Gratitude
When you get bogged down with the stresses of existing, it's easy for thankfulness to get pushed aside. Your eyes start to see only the mundane, your thoughts turn negative, and you miss the beautiful things that are all around you. Developing mindfulness about being content with what you have and realizing that things aren't as bad as you think, requires you to be intentional about looking for the good things in life.
Express your gratitude by making a habit of listing five things that you're grateful for each day. Perhaps the birds singing outside your window remind you of being outside in nature, or you had a video chat with your best friend today. Maybe you made a tasty meal using just the ingredients in your pantry or your nail polish color really pops. Even the smallest of things can still encourage us to be grateful for what we have.
Consider writing your daily list in a journal. At the end of the year, you'll have a record of more than 1,800 things in your life that make you happy.
Self-Care Ritual To Promote A Sense of Calm: Head Outside (Safely)
The great outdoors has so much to offer: fresh air, sunshine, and proximity to nature. Just a 10-minute outdoor walk each day can perk up your spirits and center your mind. It will also give your legs a much-needed opportunity to stretch, especially if you've been cooped up indoors all day.
Ideally, you'll have time for a quick outdoor walk each day. Consider carving out this time for yourself first thing in the morning, on your lunch break, or in the evening when it's cooler outside. If daily walking won't work, try one or two longer weekly walks instead. You can also ride a bike, scooter or rollerblade if you prefer not to walk.
We strongly recommend wearing a facial covering or mask while outdoors and maintaining a social distance of at least 6 feet from others per the CDC's guidelines (which are subject to change at any time, so please use your best judgment).
Self-Care Ritual To Recharge Your Batteries: Do Things For Yourself
If you're quarantining with your family or loved ones, it can be difficult to find time to get away or have a moment to yourself when everyone is around each other all the time with nowhere to go. If you have kids and are home schooling them for the first time, you may find yourself overwhelmed and unable to get them to focus. If you're caring for your parents, they may require a lot more care than you expected.
You can only be the best version of yourself if you have time to recharge your own batteries, so make it a point to find a few minutes where you can do something for yourself. This may mean only a couple deep breaths in an undisturbed corner of the house, one episode of the show you're meaning to watch, or drinking your morning coffee or tea by an open window where you can enjoy a view.
Better yet, if you have the time or resources, an online yoga class can help you re-center yourself through moving meditation, or ordering flowers from your local florist for delivery or pick up can perk up the mood in your home. The constant bustle of everyday life may leave you pushing aside your needs but try to allow yourself the time to do things for yourself, no matter how small they may seem.
Self-Care Ritual To Reduce Stress: Take A Break
If you're working from home and finding it difficult to keep separation from "work time" and "non-work time," this one's for you. Just because you're at home and there's no need to get ready for work or commute to your job doesn't mean that you should work extra hours just because there's nothing better to do and you want to feel productive. We're all guilty of it, but make sure to take a break every so often to listen to music, play with your pets, or just take time away to find activities that can reduce your stress.
Or, perhaps you are the head of your household and you are trying to manage the increased cooking, cleaning, and grocery ordering/buying that being at home 24/7 entails. Don't be afraid to ask for help when you need it so you can take a break from all the chores. Setting a schedule or chore chart can help divide the labor amongst you and your partner or family so all the pressure isn't on you to maintain a pre-pandemic level of cleanliness in your home.
Self-Care Ritual To Refocus On Yourself: Sticking to Your Skincare Routine
Being thrown out of your regular routine by the pandemic can cause disruptions to everything, and your skincare regimen is no exception. If no one is seeing you every day, do you really need to take care of your skin anymore?
The answer is yes! You should definitely still be keeping up with your regular skincare routine, such as cleansing your face, applying your serums and moisturizers, using sunscreen and indulging in a face mask as a boost every now and then.
You can even take this time to turn your skincare up a notch and arrive with glowing skin by the end of it all. You can try our simple 5-step self-care routine that anyone can do or check out our top 5 holy grail skincare products. Whatever you do, stick to your routine and continue to make it part of your daily self-care.
Self-Care Rituals Are Necessary, Not Selfish
Taking time to practice essential daily self-care rituals plays a huge role in investing in your own wellness. You are the only person that can do this for yourself, so don't feel ashamed in recognizing that you need it. We all do! Start with small rituals that you can expand on in the future and do it today. Your mind, body and soul will thank you.