Best Products For Irritated Skin
DISCLAIMER
This blog has not been approved by your local health department and is not intended to provide diagnosis, treatment, or medical advice. Read More

This blog has not been approved by your local health department and is not intended to provide diagnosis, treatment, or medical advice. The content provided on this blog is for informational purposes only. Please consult with a physician or other healthcare professional regarding any medical or health-related diagnosis or treatment options. Information on this blog should not be considered as a substitute for advice from a healthcare professional. The claims made about specific products throughout this blog are not approved to diagnose, treat, cure, or prevent disease.
In this article: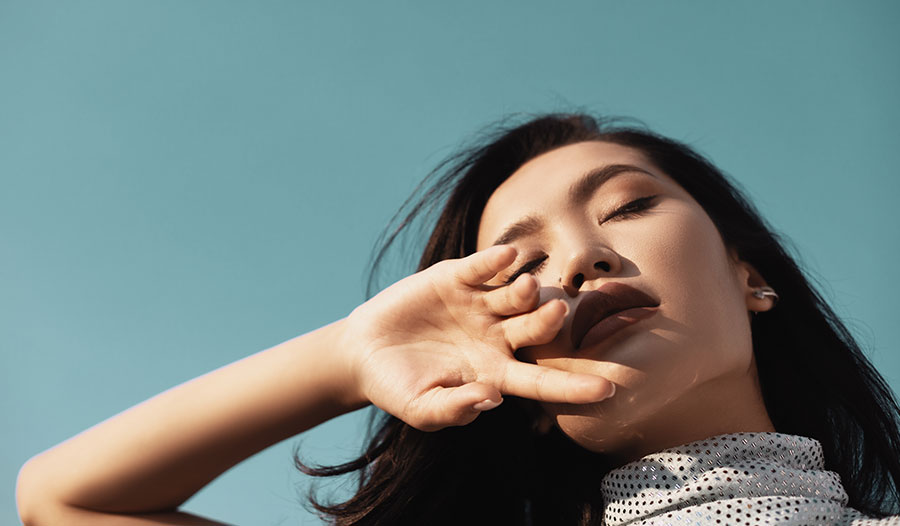 As someone who deals with sensitive skin, I have tested out plenty of different products over the years to combat irritation. Dealing with irritated skin can become a frustrating task when you don't know what to do! Thankfully, I've done my own trial-and-error experimenting with both drugstore and high-end beauty products to make my irritated skin feel better.
To find the right skincare products to combat irritation, I often look at the ingredients list for a product before making a purchase. A lot of sensitive-skin-friendly skincare products contain ingredients like hyaluronic acid, squalane, and niacinamide to deliver skin-quenching and healing results.
These are my go-to products for when my skin is irritated. I am sharing a few top-rated hydrating face cleansers, serums, facial oils, face masks, and more.
Derma E Hydrating Gentle Cleanser Hyaluronic Acid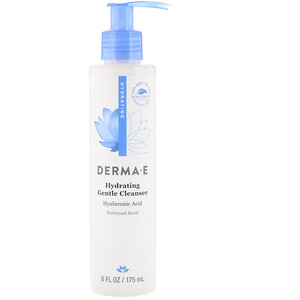 One of the first things I like to do for my irritated skin? Use a hydrating cleanser. The Derma E brand is one that I've personally trusted for years. Their line of skincare always makes my face feel soft. A new product that I recently picked up this past summer is the Derma E Hydrating Gentle Cleanser with Hyaluronic Acid.
An ingredient to look for in any cleanser is hyaluronic acid because it retains moisture to the skin. Not only does the Derma E Hydrating Gentle Cleanser contain potent hyaluronic acid, but it also has soothing chamomile and vitamins A and E to rejuvenate irritated skin.
As a face cleanser and a gentle makeup remover, the Derma E Hydrating Gentle Cleanser continues to be a staple product in my skincare routine.
Huangjisoo Pure Perfect Cleansing Oil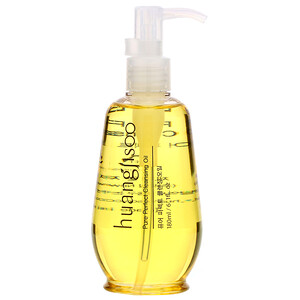 Another cleansing product I rely on to help relieve irritation from my skin is an oil-based cleanser. The Pure Perfect Cleansing Oil from Huangjisoo contains a natural and organic mix of olive oil and jojoba oil. Inside this cleansing oil, 19% olive oil breaks down makeup while 27% jojoba oil treats blackheads and oil build-up.
I suggest trying out a cleansing oil for irritated skin even if you have oily skin. It will add more hydration, and it's especially effective for removing your makeup in a gentle way.
Idealove So Soothe Me Intensive Green Tea Toner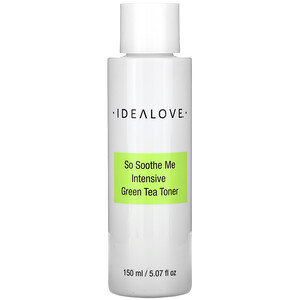 After cleansing my skin with a gentle hydrating face wash, I typically follow up with a green tea toner. A favorite of mine comes from the brand Idealove. The So Soothe Me Intensive Green Tea Toner has an alcohol-free and fragrance-free formula, which means it will never irritate my skin.
The other helpful ingredients inside this green tea toner include green tea itself which quiets irritation and restores the skin back to its correct pH level. Green tea has antioxidants and is anti-inflammatory, which is why I like to find products containing large amounts of it.
Cosrx Ultimate Nourishing Rice Overnight Spa Beauty Mask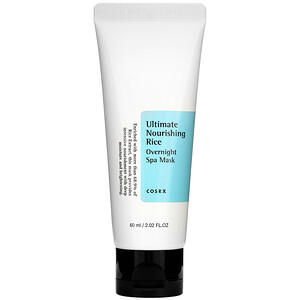 When treating my irritated skin from home, I like to apply a few different overnight masks to continue the process of bringing my skin back to normal. One of my go-to overnight masks is from the K-Beauty brand Cosrx. The Cosrx Ultimate Nourishing Rice Overnight Spa Beauty Mask delivers 65% rice extract for optimal moisture and rebalancing of the skin. The product also contains sunflower oil to support skin elasticity and niacinamide to lighten pigmented spots.
After cleansing and applying a toner to the face, I apply a small amount of this overnight mask and leave it on until the morning. When I wake, I take warm water and remove the remnants of the mask.
Tony Moly I'm Avocado Nutrition Beauty Mask Sheet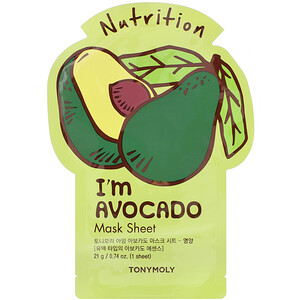 Another awesome face mask I buy frequently is from Tony Moly. The I'm Avocado mask contains avocado extract to help plump up tired and irritated skin, and promote hydration to my skin in a fun way!
I unravel the sheet mask and delicately place it over my face to leave it on for 20 minutes. I like to curl up on the couch with one of these sheet masks on my face while I watch TV.
Sympli Beautiful Illuminating Antioxidant Facial Oil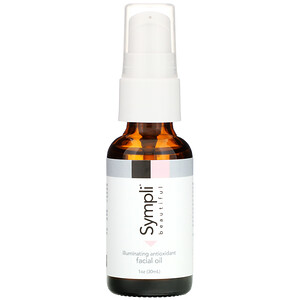 I already use the Sympli Beautiful Juice Apple AHA Skin Perfecting Peel for when my skin needs deep exfoliation. On days when I want to apply an oil to my dry skin, I use the Sympli Beautiful Illuminating Antioxidant Facial Oil with Argan, Marula, Rosehip, & Orange Oil.
Holy cow, this facial oil has SO many great ingredients packed into one bottle. They combine beautifully inside this facial oil for the best hydration possible.
After cleansing my face for the night, I like to apply a few drops of this facial oil with my fingertips. It takes me a few minutes to push the product into my skin. In the morning, I always wake up to soft and hydrated skin.
Even if you have oily skin, do not feel afraid to try out facial oil at night. As someone who grew up with oily skin, I always feared using oil on my face. I thought applying it to my already oily skin would cause me more breakouts. However, facial oils are super hydrating when you find the right one. For people with oily skin, it's actually important to rebalance your skin with oils because your skin needs more moisture.
Purito Plainet Squalane Oil 100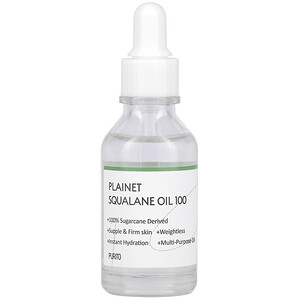 One more facial oil that I personally enjoy using on my face comes from the K-Beauty brand Purito. The Squalane Oil from Purito blends seamlessly into my skin after I cleanse it with my Derma E Hydrating Cleanser. I take a few drops from the Squalane Oil and smooth it across my face.
Some facial oils can feel heavy and thick, but this squalane oil has a very lightweight consistency to it. It virtually disappears on the skin in seconds. As with most facial oils, a little bit of this product goes a long way.
Hawaiian Tropic Silk Hydration Weightless Face Oil-Free Sunscreen Lotion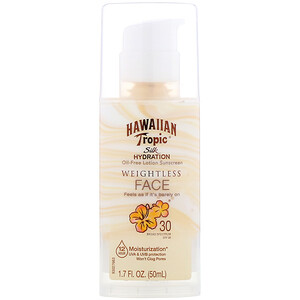 When on the hunt for the perfect daily sunscreen, I found a lot of irritating formulas. Most standard sunscreen formulas contain harsh ingredients that also clog pores. Thankfully, I finally bought the right sunscreen from iHerb that hydrates and protects my skin from the sun! Hawaiian Tropic Silk Hydration Oil-Free Sunscreen Lotion protects the skin against UVA and UVB rays with a lightweight consistency. I am a huge fan of the formula of this sunscreen.
If you are looking for a weightless sunscreen I do recommend trying out this one from Hawaiian Tropic. Before I apply my makeup, I squeeze a bit of this product into my palms and press it into my skin. The non-greasy formula works well for my oily skin, too. It's important to apply sunscreen with at least SPF 30 and this sunscreen has it.
Now Foods Solutions Hyaluronic Acid Hydration Facial Mist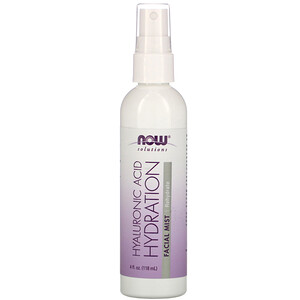 A product that I always keep in my purse with me is the Now Foods Hyaluronic Acid Hydration Facial Mist. Living in Florida, my skin often flares up twice a year: during the summer and winter.
With the changing seasons, I need to use a product that perks up my dry skin while on the go. The Now Foods Hyaluronic Acid Facial Mist stays with me whenever I am traveling because it replenishes my thirsty skin in seconds. This facial mist has hyaluronic acid, aloe vera, and fruit extracts to deliver the perfect amount of hydration to my parched skin.
When I am on vacation and take an airplane, I often need this facial mist to keep my irritated skin at bay. The circulating air on the plane can really dry out my face.
Say Goodbye To Irritated Skin
Do you suffer from irritated skin? I hope a few of these hydrating products can help you out! Make sure to read the ingredients of a skincare product before making a purchase, too. Look for ingredients like hyaluronic acid, squalane, rosehip oil, olive oil, and avocado extract to relieve your skin irritation.